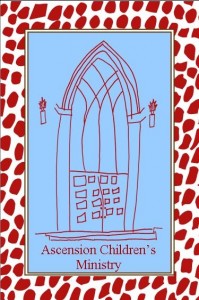 Sunday School meets each Sunday morning at 9:15.  Preschoolers gather in the last room on the left down the hall from the parish offices.  Kindergarten through 5th graders gather in the Merrie Player Room.
After Bible stories and crafts in the classes all of the children come together in the Merrie Player Room for Chapel.  After Chapel they join their parents in the nave for communion.
A Typical Lesson from John 10:22-20:
The children traced one of their hands and added cotton balls and wiggly eyes to help them remember:
"My sheep hear my voice. I know them, and they follow me. I give them eternal life, and they will never perish. No one will snatch them out of my hand. What my Father has given me is greater than all else, and no one can snatch it out of the Father's hand. The Father and I are one."
VBS 2016
Praise!
Arts Camp at Episcopal Church of the Ascension
Monday, June 13 – Thursday June 16.   5:00 – 8:00pm
Dinner served each night.
Ages: Entering 3K-5th grade.
      Junior and Senior Counselors Ages: Entering 7th-12th grade
Arts Camp Sunday for the Whole Family:   June 19 at 10am
Registration and Volunteer forms in Terrill Foyer or Enroll Online at https://kideventpro.lifeway.com/myChurch/?id=31568